10/17/19-Unless things change, it's our understanding that tonight's episode of "Creepshow" will be the one based on "The Companion," the story that Champion Joe wrote with his kids, Keith and Kasey. Watch for it on Shudder Channel and get an advance look here!
10/17/19-Put on your red fez and have a fish dinner, and then read The Sky Done Ripped, the last of the Ned the Seal books, due out December 31, 2019. You can order it here, or directly from the Subterranean Press site.
10/17/19-Blood in the Gears is the second in a four-volume set of stories by Joe R. Lansdale. Each, as best is possible, covers a certain branch of his career. While none of the volumes neatly fits into a box, this volume attempts to point to those stories of his that contain the elements of crime, mystery, and suspense. Some of them are creepy, some bloody, some strange, all powerful and unique. Well-known stories and lesser-known tales rub shoulder-to-shoulder here, and when they do, the friction causes blood to drip into the story gears. These are the results of the raw and contradictory elements of flesh, and blood, and bones that make up the human machinery. For details and to reserve one of the 25 remaining copies of this 500-page beauty, click here!
10/17/19-Hap and Leonard audiobook alert! Champion Joe reads "Veil's Visit," which he co-authored with his brother Andrew Vachss. To give it a listen, click here!
10/17/19-Monster trading cards just in time for Halloween from Champion Joe's Christmas Monkeys collaborator and friend, Pete Von Sholly! Check it out!
10/17/19-Heads up, New York! On Tuesday, December 3, the Champion Joe documentary, All Hail the Popcorn King, will be screened at the Alamo Drafthouse Cinema Downtown Brooklyn ... and Kasey Lanasdale will be there to sign to you! Details here!
10/17/19-As he drove, Miller could hear his wife's voice in the back of his head telling him what a screwup he was. It's "Screwup," and it's the Totally Free Mojo Story of the Week! Enjoy!
10/10/19-Champion Joe says, "Devi scrivere, trovare il tuo metodo e attenerti ad esso, cambiandolo solo quando smette di funzionare per te. Ma dagli tempo, qualunque metodo tu scelga di volta in volta." If you can read that, you might also want to read this!
10/10/19-Heads up, Los Angeles! Wednesday, October 16, Kasey Lansdale is releasing her new single, "Ghost," and performing at The Hotel Cafe. For more information and tickets, click here!
10/03/19-She just lost her job at the laundry, doesn't have a car that's safe to make the long drive, and doesn't have a date to bring, but Jane won't give her sister the satisfaction of missing her wedding. It's Jane Goes North, the latest from Champion Joe, and it's an epic roadtrip that pairs Jane with a grumpy, one-eyed female weightlifter named Henry for an odyssey that involves drunk preachers, modern slavers, panty snatchers, disabled thieves, and a quest for the world's greatest toaster. Check it out!
10/03/19-"Joe Lansdale is an exceptional writer. One of the reasons why he stands out among his peers is that he refuses to be pigeonholed into a genre. His ability to write about a multitude of subjects is why he has such a supportive and hardcore fan base spanning generations. Documentarian filmmaker Hansi Oppenheimer is working on a new project which is a tribute to the iconic scribe entitled, All Hail the Popcorn King." To get the whole story from 1428 Elm, click here!
09/26/19-Joe Richard Lansdale and two other young men attempted to register for the Fall 1970 Semester at Tyler Junior College, a public institution of the State of Texas. However, because their hair styles did not conform to a particular section of the "Dress Code," a comprehensive set of regulations governing student appearance adopted by the Board of Trustees shortly before the school term, they were not permitted to register. Subsequently, they brought suit. To find out what happened next, click here!
09/26/19-Champion Joe says, "Horror novels your meat? Vampire novels? Like some humor and snappy dialogue? This just might be the book you need. From Gary Raisor. Less Than Human in eBook. Check it out.
09/19/19-If you like noir and hardboiled and related fiction, you might want to listen to this recording from a panel Champion Joe was on at Book People, moderated by Scott Montgomery. Interesting if this sort of stuff interest you. Also, a discussion of Manhunt Magazine.
09/19/19-Another podcast! On "The Horror Show with Brian Keene, " episode 235, Brian is joied by Joe R. Lansdale, Kasey Lansdale, Keith Lansdale, Karen Lansdale, and filmmaker Hansi Oppenheimer to discuss All Hail the Popcorn King,, growing up Lansdale, and much more. To give it a listen, click here!
09/19/19-Want a free book? Dark Regions Press is doing a promotion for Prisoner of Violence, a new graphic novel written by Champion Joe and adapted to comic script by his son, Keith Lansdale. To read about the promotion, click here!
09/19/19-"I've always liked dialogue. When I was growing up, people were always trying to top the other guy. I would remember all of that. People say, 'Well, people just don't do that.' We do, quite a bit, in East Texas, especially if you know each other really well. Or if you don't like someone. That can be it, too." To read the rest of the Door County Pulse's interview with Champion Joe, click here!
09/12/19-Champion Joe says, "Cosmic Interruptions is a beautiful book, and I like to think the stories are good as well. A fine collection. Not sure how many are left, but if interested, and if you're someone who collects finely constructed books, then this might be for you." Click here for more information.
09/12/19-Lots of your favorite ass-kicking Texan duo in The Big Book of Hap & Leonard, including the stories from both Hap & Leonard and Blood and Lemonade, plus a bit of bonus material. And inexpensive too. So, check it out.
09/04/19-A new edition of The Drive-In, or rather, The Complete Drive-In, is forthcoming pretty quick. More information to follow soon. But in the meantime, here is a review you can check out from Mark Seiber of the original novel.
08/29/19-Keith Lansdale and Jok have picked up the mantle that Champion Joe and Sam Glanzman set up in Red Range: Pirates of Fireworld! Read all about it and then go get a copy of the first issue, out this week!
08/29/19-Ed Edwards is in the used car business — a business built on adjusted odometers, extra-fine print, and the belief that "buyers better beware." Burdened by an aging, alcoholic mother constantly on his case to do something worthier of his lighter skin tone and dreaming of a brighter future for himself and his plucky little sister, Ed is ready to get out of the game. More Better Deals is Champion Joe's latest, due out July 21, 2020, from Mulholland Books!
08/08/19-The Magic Wagon takes place at the turn of the century, 1909, and the West as we think of it was gone, but there is a residual, somewhat ghostly residue of its existence, though much of what we think about the West is wrong and is built on movie images. That's part of what the story is about. We don't even know if this is Wild Bill's body, not actually. But in Billy Bob's mind it is for certain. And for him the Dime Novel idea of what the West was is pervasive with him. He prefers the myth to the truth. The myth gives him comfort. What's going on here is a story told by a kid who has had a rough life in a short time, and he's telling a story that manages to be about age and race and broken dreams. It deals with some real historical figures, but the truth is, Buster is an unreliable narrator. He tells what he thinks he knows, and senses what he thinks is going on, a kind of supernatural aspect, but that may or may not be more in his head than in reality. And hey, you get a wrestling chimpanzee.Check it out! — now with added features!
08/01/19-Keith Lansdale joined the podcast "Saddle Up" to talk Butch Cassidy and the Sundance Kid, Hell or High Water, and his own forthcoming film, Pale Door. Listen in on Apple Podcast, PodBean, Castbox, Stitcher, TuneIn, and Spotify.
08/01/19-Champion Joe says, "Best Western films: Butch Cassidy and the Sundance Kid, if I can count a TV movie, Lonesome Dove, which is actually a lot of hours. True Grit, the Jeff Bridges version. The Shootist, The Man Who Shot Liberty Vance, Tombstone, Quigley Down Under, The Searchers, Unforgiven (the Eastwood title), Little Big Man, Ride the High Country, The Wild Bunch, Red River, Rio Bravo, Stagecoach, Shane, the original Magnificent Seven, the original 3:10 to Yuma starring Glen Ford, The Outlaw Josey Wales, The Ox-Bow Incident, My Darling Clementine, High Noon, No Country for Old Men, Once Upon a Time in the West, Open Range, Hell or High Water, The Big Country, The Assassination of Jesse James by That Coward Robert Ford, The Appaloosa, The Long Riders ... and is HUD a Western? Anyway, I could add to this. I love Western novels and films."
07/18/19-"Creepshow" update! One of the episodes is based on the story "The Companion" by Champion Joe, his son, Keith, and his daughter, Kasey, and adapted by the very fine writer, Matt Venne. Check it out here!
07/18/19-Want a signed copy of Kasey Lansdale's horror collection "Impossible Monsters"? Well, head over to George R.R. Martin's Jean Cocteau Cinema, or order from them online! And be sure to check out all the other signed books available, including many by Champion Joe!
07/11/19-Champion Joe says, "The Legislative Drafting Institute for Child Protection is something I believe in." Check it out and make a contribution here.
06/27/19-Normally we're partial to pithy pull quotes, but here's the eloquent guts of what Publishers Weekly had to say about Champion Joe's prequel to Bubba Ho-Tep, Bubba and the Cosmic Blood-Suckers: "As this prequel opens, Elvis Presley is glumly making crappy films and crappier songs, but it's for a good cause: supporting his other job of fighting things that go bump and squish in the night. Colonel Parker, Elvis's manager, claims something awful has pushed through the interdimensional boundaries, rolling its victims up into human donuts and sucking the insides out of them. Along with psychic Blind Man, logistics man Jack, singer Jenny Jo Dallas, hammer-wielding John Henry, and body man Johnny Smack, Elvis and Parker head to a New Orleans house to face the bloblike Big Mamma and her minions. "
06/20/19-Bill Roberts had a history of messing things up. Things with his poor dead mama, for one. For another, the firecracker-stand job he was planning with Fat Boy and Chaplin. And then there was his face, of course. When Bill finally crawled out of the swamp that day, his face was swollen to unrecognizable with stings and bites. So naturally, he joins the Oddities of the World carnival and freak show. Freezer Burn is one of Champion Joe's odder novels. You odder read it!
06/20/19-Welcome to the cool side of the 1950s, where fast cars and revved-up movie monsters peel out in the night. Where outlaw vixens and jukebox tramps square off with razorblades and lead pipes. Where rockers rock, cool cats strut, and hot rods roar. Where you howl to the moon as the tiki drums pound and the electric guitar shrieks and that spit-and-holler jamboree ain't gonna stop for a long, long time . . . maybe never. This is the '50s of Pop the Clutch: Thrilling Tales of Rockabilly, Monsters, and Hot Rod Horror, an anthology that includes "Tremble," by Champion Joe and Killer Kasey!
06/20/19-Champion Joe's novella The Big Blow is in development with Giannina and Ridley Scott, Reinaldo Marcus Green, and Oren Moverman attached. Read the story before everyone is talking avout the movie!
06/13/19-More on Keith Lansdale's The Pale Door, on BloodyDisgusting.com!
06/13/19-Champion Joe's short story "The Senior Girls Bayonet Drill Team" depicts a high-school competition in which sport and butchery have joined hands. You can read the story in Lawrence Block's latest anthology, At Home in the Dark! You can get the book here, and you can hear Champion Joe talk about the story here.
06/13/19-Frank's papa, the summer of nineteen hundred and nine, told him right before he died that he had a good chance to win the annual Camp Rapture mule race. He told Frank this 'cause he needed money to keep getting drunk, and he wasn't about to ride no mule himself, fat as he was. If the old man had known he was about to die, Frank figured he would have saved his breath on the race talk and asked for whisky instead, maybe a chaw. But as it was, he said it, and it planted in Frank's head the desire to ride and win. It's "White Mule, Spotted Pig," and it's the Totally Free Mojo Story of the Week! Enjoy!
06/06/19-"I love the idea of mixing these two disparate worlds of horror and western, and to do so with the help of Joe and Keith Lansdale, feels like the perfect devil's playground. It's 3:10 To Yuma meets The Descent, but doused and then set on fire with psychological horror. Once this gets going, it's relentless." That's director Aaron B. Koontz talking about The Pale Door. To read more about the forthcoming film, which promises epic battles between cowboys and witches, click here!
05/30/19-"You're your own goddamn muse, you're not waiting for something from the outside, especially if you're an atheist like me. Somebody says to me, 'God should be your muse,' and I say, 'Well, that motherfucker needs to show up.' I found I show up more than he does." To read the rest of Champion Joe's interview with Cemetery Dance, click here!
05/23/19-Champion Joe's niece, Pam Dunklin, is appearing in "Lone Star Justice," forthoming from the ID Channel. Pam is a former homicide detective, and she'll be on the show discussing past cases. Way to go, Pam! Click here for more info!
05/23/19-Check it out! "Elliott Lester To Direct Peter Dinklage In 'The Thicket'"
05/16/19-Fans of 1980s horror will remember fondly the Stephen King/George Romero anthology series "Creepshow." Well, the show is getting a second life, and includes an adaptation of a Champion Joe story! To read all about it, click here! And here! And here!
05/16/19-Champion Joe says you need this fine novel: Lewis Shiner's Outside the Gates of Eden. In case you need another endorsement, George R. R. Martin, author of A Game of Thrones, says it's "a powerful piece of work. Shiner writes about music, and the making of music, better than anyone I know. He gets across the tremendous excitement of the early days of rock and roll, the peace movement, Woodstock and the Summer of Love—but also the heartbreak of failure, betrayal, and loss. The prose is terrific, and the sense of time and place is first rate. A brilliant requiem for our generation and all our dreams."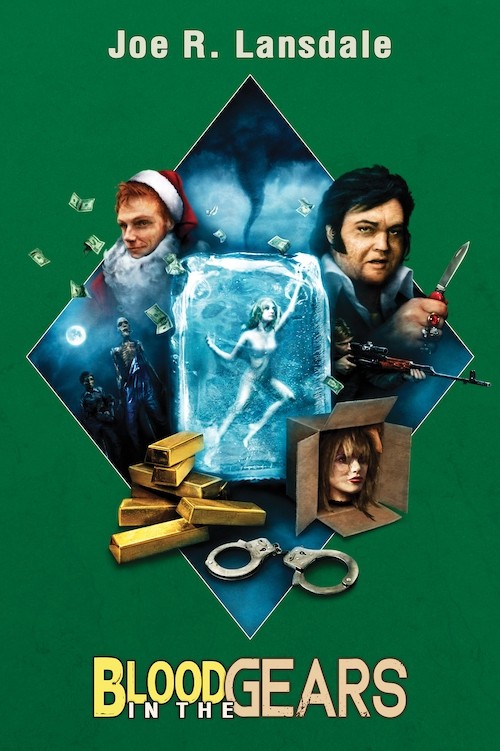 05/02/19-If you want to see Hansi Oppenheimer's documentary about Champion Joe become a reality, you need to act fast!
04/25/19-For a great deal on Bubba Ho-Tep and its prequel, Bubba and the Cosmic Blood Suckers, click here.
04/25/19-From the Lansdale Vault, four hardcovers: The Thicket, 1st edition, $20; Tarzan's Lost Adventure, $25; Paradise Sky, 1st edition, $25; Edge of Dark Water, first edition, $20. All prices include shipping and handling in the US. For international orders, ask before paying. Contact Kasey to reserve your treasure!
04/04/19-Champion Joe talks about writing on The Prolific Writer podcast!
03/14/19-Having corrected the wounds in the fabric of time, the smartest seal in the world is on his way home. But before he can get here, he and his partner, HG Wells, along with shipwreck survivors Bongo Bill and Suzie Q, find themselves in an inner world with a stationary sun. It's a warm world, with jungles, rivers, and land-locked seas, and it's full of walnut-brained dinosaurs, highly intelligent apes, cannibals, strange storms, and bad hygiene. Are you ready for The Sky Done Ripped? Because Subterranean Press is ready to take your preorders!
03/14/19-"Hap & Leonard: Season Three" is now streaming on Netflix. Meanwhile the show has been canceled by Sundance. Folks keep saying why doesn't Netflix pick it up. I think they had an opportunity to, and didn't. But, with enough encouragement, they still could. If you want to encourage Netflix to produce more "Hap & Leonard," tell them here.
03/14/19-And while you're over there at Netflix, check out "Love, Death & Robots," a new anthology series by Tim Miller and David Fincher. Two of the 18 animated shorts are adapted from stories by Champion Joe! News Vire calls the series "the epitome of cool; an ambitious, dazzling, f***ed up fever-dream that hops between genres and animation styles to deliver an all-you-can-eat buffet of weirdness." More info here and a review on Wired here.
03/14/19-Can't wait until next week to read The Elephant of Surprise? Then don't. Start reading now! Crime Reads is running an excerpt. You can dig in here!
02/28/19-From the Bookreporter: Amidst the worst flood East Texas has seen in years, Hap and Leonard run across a woman who's had her tongue nearly cut out in a failed mob hit, and is trying to avoid them finishing the job. On a chase that blows back East Texas swampgrass, Hap and Leonard try to save the girl without getting themselves killed in the process. The Elephant of Surprise is rich with Lansdale's trademark humor, whip-smart dialogue, and plenty of ass-kicking adventure. It will be on sale March 19, 2019, but you can reserve your copy here!
02/28/19-For those desperately seeking Bubba ... the comics adaptations of Bubba and the Cosmic Blood-Suckers and Bubba Ho-Tep have been collected together into a single trade paperback. Click here to add Bubba to your life!
02/21/19-Joe Lansdale wrote an absolutely terrifying novella back in 2014 entitled Prisoner 489. It is a tale of a prison on an island and an executed criminal who rises from the dead to wreak havoc on all the staff members of the facility. Harrowing and memorable, from this dark effort we get another work of fiction. Prisoner of Violence is a graphic novel written by Joe and his son, Keith Lansdale. It explores what happens when new convicts arrive and how they combat the frightening surprises that await them. To learn more and to preorder your copy, click here!
02/07/19-Champion Joe says, "Wow. Really getting close on Kickstarter goal for Pirates of Fireworld, based on Red Range, a series of comics I wrote and Sam Glanzman illustrated. This new series of comics takes up where I left off, and is illustrated by Jok and written by my son, Keith. It's a doozy. Check it out and if so inclined, help support it. Also, keep in mind, that it stands on its own. It's nice if you have read the previous, and I believe that is still available, but this one stands on its own. Dinosaurs, cowboys, pirates, a whiff of steampunk, and a whole lot of excellent goodness.
01/24/19-When last we saw the Red Mask and Turon in Champion Joe and Sam Glanzman's Red Range graphic novel, they had fallen into a hole to the center of the earth! Keith Lansdale and Jok pick up the story from there, in Red Range: Pirates of Fireworld, a comic-book series available in both English and Italian!
01/17/19-Click here to listen to an interview with Champion Joe and Kasey about Terror is Our Business, as well as the Hap and Leonard TV show. Really fun, and sometimes even moving. Contains spoilers, so be alert to that.
01/10/19-Champion Joe says, "The Magic Wagon for me was the turning point in longer work, and I still cherish writing it. It took me about a year, which is a really long time for me, considering how slim the book is, but I was learning, and of course, writing short stories and editing anthologies to pay the bills at the same time. This is a very special collector's edition that includes along with the novel an introduction by me, an article by my son concerning me as a writer, and a rare short story of mine, 'Man With Two Lives.' Check it out."
01/10/19-Champion Joe also says, "The Story of Mitch by John Perry. Pretty damn cool story. Check it out."
01/03/19-Champion Joe says, "A writerly tip that works for me and may work for you. Write like everything is alive. Rocks, trees, cars, you name it. They don't have to talk or ask directions (optional), but by thinking of objects that way you write more descriptively. Not that you should overdo it. Writers I feel did that well were Ray Bradbury and Raymond Chandler. There are others, but they jump to mind. It gives the work a more painterly or cinematic feel if you think of things, even things that don't move, as alive."
12/27/18-You collect Champion Joe's stories? You might want to join this group.
12/27/18-Champion Joe says, "Happy holidays, merry Christmas, happy new year to everyone from the Lansdale cave."
12/20/18-New York Times Book Review describes The Bottoms as "Wondrous...dark enchantment." The Denver Post says it's "Terrific suspense...equal parts morality tale and page-turning thriller." And Bookreporter says, "Lansdale creates many colorful and vivid characters. . . . The Bottoms tells a great yarn of a vanished place and time." To read what everybody is talking about, get your copy here!
12/13/18-"The Watering Shed" is a brand-new short story featuring Hap & Leonard. Interested? Then you'll want to sign on to the Kickstarter campaign for Full Bleed Vol. 3: Heavy Rotation!
12/13/18-"Non mi piace essere costantemente paragonato a qualcuno. Sono Joe R. Lansdale, nel bene e nel male. Ma Stephen è un grande. Credo sia stato lui a farmi vedere la letteratura di genere in modo più ampio." To read the rest of Champion Joe's interview with Il Messaggero, click here!
12/06/18-Champion Joe is roaming around Rome this week, to help his friend Seba Pezzani promote the biography related to his work. Say ciao!
12/06/18-Welcome to the cool side of the 1950s, where fast cars and revved-up movie monsters peel out in the night. Where outlaw vixens and jukebox tramps square off with razorblades and lead pipes. Where rockers rock, cool cats strut, and hot rods roar. Where you howl to the moon as the tiki drums pound and the electric guitar shrieks and that spit-and-holler jamboree ain't gonna stop for a long, long time . . . maybe never. This is the '50s of Pop the Clutch: Thrilling Tales of Rockabilly, Monsters, and Hot Rod Horror, an anthology that includes a contribution from Champion Joe and Killer Kasey!
12/06/18-Champion Joe says, "WHAT! A new Andrew Vachss novelette, and I've read it and it's fantastic. You can check it out here."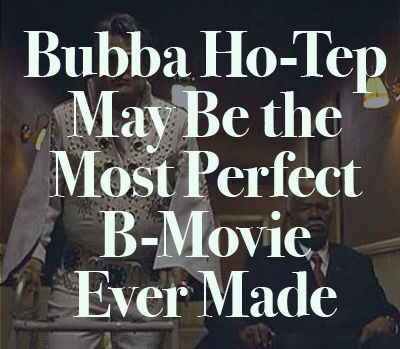 11/15/18-Champion Joe says, "Did you know your purchases can make a difference? AmazonSmile donates to Legislative Drafting Institute for Child Protection when you do your holiday shopping via Amazon Smile!
11/01/18-Hap Collins and Leonard Pine are up to their ears in trouble once more, when a kinky, psychotherapist client and her household end up dead with a crazy, nymphomaniac niece as the main suspect. Check out Cold Cotton!
11/01/18-A girl descended from sirens, on the verge of musical stardom, seeks revenge against her childhood tormentors. That's "Tremble," by Kasey and Champion Joe, and it's just one of the stories in Pop the Clutch: Thrilling Tales of Rockabilly, Monsters, and Hot Rod Horror - read the Publishers Weekly review!
10/25/18-In Sunlight or In Shadow: Stories Inspired by the Paintings of Edward Hopper is an anthology edited by Lawrence Block. Champion Joe's story in that anthology is "The Projectionist," and you can read it here!
10/18/18-The first graphic novel ever from Dark Regions Press, Prisoner of Violence by Joe Lansdale and Keith Lansdale takes place in the same universe as Prisoner 489, an original novella by Joe Lansdale also published by Dark Regions Press, back in 2015. Featuring original cover artwork by Daniele Serra, Prisoner of Violence will be one of the biggest projects from Dark Regions Press in 2019. To reserve your copy, head to the project's Kickstarter campaign.
10/18/18-Cosmic Interruptions is a new collection of Champion Joe's assorted science fiction, speculative, and fantasy fiction. Check it out.
10/18/18-Kirkus called A Fine Dark Line a "Funny, scary, heartwarming, heart-pounding, Tom Sawyer–ish, Huck Finn–ish, provocative, evocative, sometimes actually wise: the best ever from talented Lansdale—a genre-crossing tour de force to spark the most jaded appetites." To get your copy, click here!
10/04/18-Publishers Weekly called Edge of Dark Water a "chillingly atmospheric stand-alone," and the reviewer at Library Journal said it "puts me in mind of Daniel Woodrell with a touch of To Kill a Mockingbird." The New York Journal of Books said it "has all the potential of becoming a classic, read by generations to come." It was picked as one of the 100 best novels of 2012 by Kirkus. Booklist placed it among the year's Best Adult Books for Young Adults. The Boston Globe listed it among the ten best crime books of 2012 and LitReactor included it among the best of 2012. You can read an excerpt by clicking here, and you can order your copy here!
09/06/18-Kasey Lansdale is on "The Bruce Gold Show" discussing her new book with Champion Joe, Terror is Our Business. Check it out!
08/30/18-"There are few folks who can pull off a western these days, and the beauty of Lansdale's writing is that he doesn't idealize the turn-of-the-twentieth-century life in the west. It was a lawless, racist, sexist place where one was often at the mercy of men stronger and crueler. But when good people band together, they can often accomplish much, and create the kind of environment in which they want to live. It means a great deal to me that Lansdale reflects us back at ourselves, and shows us possible paths out of the thicket." To read The Bowed Bookshelf's entire review of The Thicket, click here!
08/23/18-Cosmic Interruptions is a collection of speculative fiction by Champion Mojo Storyteller Joe R. Lansdale. The stories here have been grouped as part of a four-part set, this first volume loosely falling into the speculative-fiction, science-fiction, and off-beat fantasy realm. The stories range from alternate universes to dark futures to the warping of time and space, and a variety of unclassifiable items. There is action, humor, whimsy, and a large dollop of what was once called A Sense of Wonder. Future volumes will gather tales of crime and mystery fiction, horror and East Texas Gothic, and historical and western stories. This is a unique chance to gather not only Lansdale's popular stories, but some that are lesser known and should be known more broadly. To check out the story listings, click here -- to order copies for delivery in the USA, click here.
08/16/18-Champion Joe turned in the third and final Ned the Seal book last week, titled The Sky Done Ripped. Pure fun and lots of it. Coming soon from Subterranean Press.
08/09/18-Jerry Sterns adapts Champion Joe's "God of the Razor" to audio for Campfire Radio Theater! Give a listen and enjoy!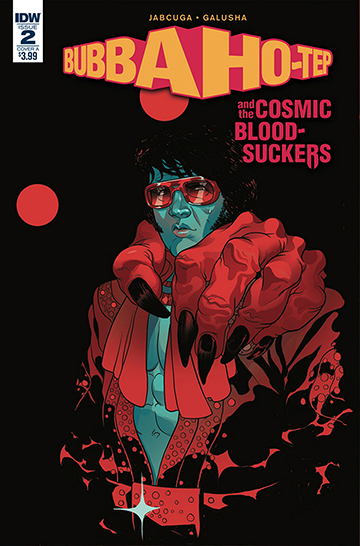 07/26/18-Amidst the worst flood East Texas has seen in years, Hap and Leonard run across a woman who's had her tongue nearly cut out, pursued by a heavily armed pair of goons. Though she can't talk much, on account of the tongue, it turns out the girl survived a mob hit, and the boss has come to clean up the mess. The Elephant of Surprise is full of Champion Joe's trademark humor, whip-smart dialogue, and plenty of ass-kicking adventures. It'll be out March 2019, but order it now to help us make this the biggest Hap & Leonard novel yet!
07/26/18-Champion Joe and Keith Lansdale have teamed up to write an X-Files comic series! Check out Hoot Goes There?, a two-issue series from IDW.
07/05/18-Champion Joe says, "Harlan Ellison has died. I knew Harlan a little and liked him. I wasn't a dear friend, but we were certainly friendly. I always got a kick out of his phone messages. He never called me Joe, always Lansdale. Last time I called him he was not able to come to the phone, so I spoke with his wonderful wife, Susan. I had a feeling Harlan was near the end, and now, a few months later, that has proven true. It was an obvious feeling. He was old and he was sick and had been in the hospital. Harlan once said, and I believe I read this in the biography about him, that he would not be a beloved figure. He did me a kindness or two, and I wasn't even aware he was doing it. His work I read in the Seventies and Eighties was inspiring. He had a unique twist on things, and he had the courage to stand up for 'genre' writers as writers of worth, and he had the courage to tell 'genre' and 'literary' writers they sucked when he thought they did. Sometimes it approached just mean-spirited and unnecessary, and other times it was a reminder that what we do as writers matters. That we have an obligation to be true to our art. I've never thought we have to be writing about something of importance each time out, but we should feel that writing is important every day. I write on both sides of the coin. Fun and light, dark and thoughtful, or at least I like to think I do. I was going to say some things about Harlan, maybe tell a couple of small personal stories about him, but I decided this article covers Harlan about as good as anything I've seen."
07/05/18-Hey, Italy! Champion Joe's Deadwood Dick debuts in a comics adaptation in your fine country tomorrow! Check it out:
06/28/18-Horror Talk says, "[Terror is our Business] demonstrate[s] that Joe isn't the only storyteller in the Lansdale family. Kasey is an apple that didn't fall far from the tree of creative genius and the combination of the two [writers] is a perfect pairing. Their narrative voices complement each other exceptionally well, and the snappy dialogue between the two main characters sometimes seems like the dueling riffs of two virtuoso guitarists. " Order your copy here!
06/14/18-It's "Eleven of the Best Lone Star Crime Novels," and we're glad to see Champion Joe on that list!
06/14/18-"When Hollywood and commercial mainstream American TV tries to grapple with [segregation and racism], the result is often flat and uninteresting. In total, neoliberal multiculturalism and accompanying demands for more 'representation' on TV and in film are powerful forces and slogans, but they rarely result in compelling and authentic popular art or other types of entertainment. Joe Lansdale's 'Hap and Leonard' TV show ... was an intervention and corrective against the Hollywood status quo." To read Chauncey DeVega's entire article from Salon, click here.
06/14/18-Last we checked, the petition to save "Hap & Leonard" was just shy of 8,200 signatures. If you're of a mind that you'd like to see a fourth season, add your signature here. And Amy Foster says that you can also send Netflix a direct message through Facebook messenger. Nothing like letting the world know you miss a good show, no matter what the end results. Why Netflix? Well, it would be a nice place for it to end up. Who knows?
06/14/18-There are so many things writers get asked, criticized about, that some of them become funny over time. Here's Joe's responses!
06/07/18-Champion Joe says: "This is important. I will be contributing. Brian Keene, writer, friend, a fellow who has raised thousands for charity, people and children in need, now needs our help due to devastating burns. Open up your pocket books. Check out the GO FUND ME."
06/07/18-Champion Joe's novella The Big Blow is making headlines all over Hollywood, with people like Giannina and Ridley Scott, Reinaldo Marcus Green, and Oren Moverman attached. Check out the articles in Deadline, Film School Rejects, The 405, and 1428 Elm! And check out the story it's based on here!
06/07/18-SciFiMoviePage.com calls it "great"! Shih Tzus & Book Reviews calls it "fantastic"! And Reading Between Wines says, "I really didn't want it to end because I was having so much fun reading it." It's Terror is Our Business, and you can order your copy here!
05/31/18-The signed, limited-edition of Hap & Leonard: Rusty Puppy is available on the Gauntlet Press wesbite right here. There's an introduction by James Purefoy, the star of the SunDanceTV adaptation of Hap and Leonard, and he and Champion Joe have also signed the books. Check it out.
05/24/18-Champion Joe says: "You don't have to climb a mountain or go around the world on a log but what you should do is be engaged with other people on a daily basis if you want to understand dialogue, people's actions and their contradictions that's how to do it. Because we are a bunch of contradictions." To read the rest of 1428elm.com's interview with Champion Joe, click here!
05/24/18-SF Book says, "Terror is Our Business is an immersive, rewarding and highly entertaining read, it's got bags of style and wonderfully rich characters. Highly recommended." Order your copy here!
05/24/18-The title says it all: "'Hap and Leonard' Canceled Because We Can't Have Nice Things." It's a nice piece from BlackGirlNerds.com. Check it out! And if you're of a mind to sign a petition to save the show, click here.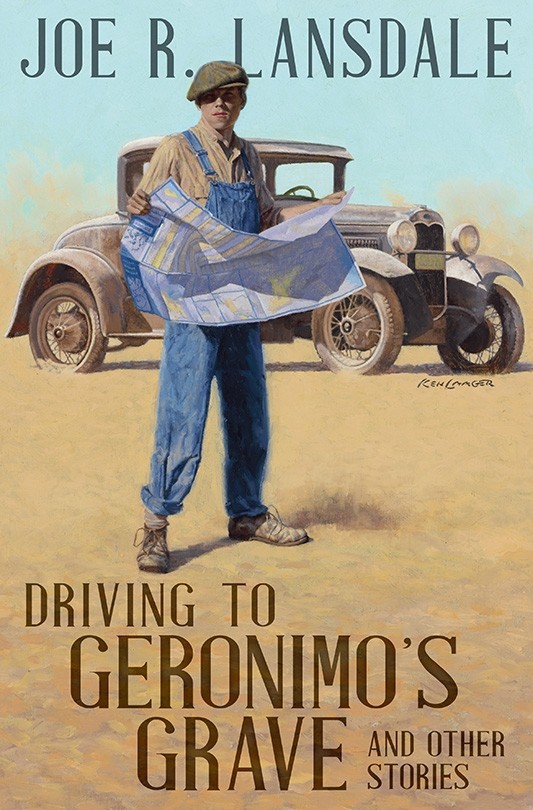 05/24/18-From the dusty Great Depression to the far future, to the wild west, and to the big-fin automobiles, soda shops and double features of the Fifties, Joe Lansdale's Driving to Geronimo's Grave and Other Stories is a collection of genre-spanning novelettes that show how our Champion Mojo Storyteller earned his title. There's even killer machines, a big ol' grizzly bear, and a check-in with Deadwood Dick. Order yours here!
05/17/18-Champion Joe says, "Hap and Leonard officially canceled. Sundance's highest-rated show, 100 percent on Rotten Tomatoes. Three Seasons wraps it up, dudes. It was an honor to have worked with the folks on the show, actors, crew, writers, and thanks for putting up with grumpy me. Wish there were more seasons, but hey, we got three, and they were very fine indeed."
05/10/18-Dead, Buried, and Back says, "From start to finish, [Terror is Our Business is] loaded with bone-chilling stories." Order your copy here!
05/03/18-Hap and Leonard need your help! Read all about it here.
05/03/18-Toe Six Press says "a wide range of readers will find [Terror is Our Business] immeasurably entertaining, even if they aren't die-hard horror fans." Fantastic Fiction says Dana Roberts and her sidekick, Jana, are "the new dynamic duo of supernatural sleuthing." Order your copy here!
05/03/18-BookReporter says Jackrabbit Smile is "Strongly recommended, particularly for those coming aboard as a result of the television series" and that "it contains some of his best writing." OutrightGeekery says "Jackrabbit Smile has a kick-ass story, but it's not just a kick-ass story. Lansdale often takes on important issues in his work, nowhere moreso than in the novels of this series. The central themes are race relations and income inequality in America, past and present, particularly in the American South. Lansdale never lectures – these issues are presented to readers strictly through the experiences of – and interactions between – the characters." Check it out!
04/26/18-Scifimoviepage.com says Terror is Our Business is "creepy and interesting, I didn't want to put it down once I started reading." Cedarhollowhorrorreviews.com says it "delivers on all cylinders." SFBook says "it's got bags of style and wonderfully rich characters. Highly recommended." Order your copy here!
04/26/18-Champion Joe and his son Keith are out there! They've written a two-issue X-Files comic for IDW. Check it out!
04/26/18-"[N]ot far from the heart of Florence, across the Arno River at Ponte San Nicolò and a few blocks east on Via Giampaolo Orsini, sits a slice of Lone Star literary culture known as Libreria Mucho Mojo, a bookstore dedicated to the work of East Texas writer Joe R. Lansdale." To read the entire Texas Co-op Power story, click here!
04/19/18-"The atmosphere is as thick as an East Texas summer day in Edgar-winner Lansdale's engaging, multilayered regional mystery, which harks back to 1958 ... Lansdale clearly knows and loves his subject and enlivens his haunting coming-of-age tale with touches of folklore and humor." That's what Publishers Weekly has to say about A Fine Dark Line — read it for yourself here and tell us what you have to say!
04/19/18-Champion Joe says, "Andrew Vachss' Another Chance to Get it Right — I love this book by my brother Andrew. I think you will, too. I'm putting it out there today, and here it is."
04/12/18-Rare as chicken teeth! Cosmic Interruptions is Champion Joe's latest collection of speculative fiction, and is limited to only 500 copies. It's from SST Press, and it's beautiful. Subterranean Press is handling some of them. Remember, 500 and then gone like the wind. Well, wind comes back, these won't. Place your preorder here!
04/12/18-There's a brand-new limited-edition release of Champion Joe's The Magic Wagon, 500 copies, signed. It also contains a rare Western short story by Hisownself and an afterward by his son, Keith. Check in out!
04/12/18-Champion Joe says, "I'm so proud of the Hap and Leonard television show team. Love it. I feel the work is respected and the talent that respects it is enormous. Thanks, Hap & Leonard." If you also like the show, write Sundance and let them know, so we can keep them coming.
03/29/18-Jackrabbit Smile is on sale now! Champion Joe shares a few words about the storyline for this new Hap and Leonard novel: "Like most of my books, this one is a combination of ideas that bled together, ideas based on current events as well as imagination. I read an article about a man with a particularly odd death fetish, met some folks who had what I perceived as peculiar and white-exclusive views on religion, combined that with the political climate of today, especially this new surge in racism disguised as protection for our country, then tossed it into Hap and Leonard's world, dipped it all into the complex culture and environment of East Texas, where I've lived all my life, and came up with Jackrabbit Smile. Entertainment with a coat of reality paint. Or better yet, reality with a coat of entertainment paint. Scratch it and you find something dark and real beneath the action and the humor."" Jackrabbit Smile is on sale now. Get yours here!
03/22/18-Mulholland Books is giving away five galleys of Jackrabbit Smile, and SundanceTV has sweetened the pot by throwing in a Hap and Leonard show poster for every winner. Click here to enter for a chance to win!
03/22/18-Check it out! New book by Champion Joe and his daughter, Kasey! Terror is Our Business!
03/22/18-Did you know there was a Hap and Leonard Hour?You do now!
03/15/18-Den of Geek heard from Corbin Bernsen and Jim Mickle about what to expect in Season 3 of "Hap & Leonard"! If you want to find out what they found out, click here!
03/15/18-"Your favorite crime-fighting buddies, 'Hap and Leonard,' are back for another season, and you won't be disappointed." To read the entire review by Study Break, click here!
03/08/18-We have lift-off! "Hap & Leonard: The Two-Bear Mambo" has launched! You can watch it on SundanceTV, or for $10 you can download teh whole series on iTunes or Google Play. And the first two seasons are available for free on Netflix. So get watching! (Or if you're more the literary type, get reading!
03/08/18-"'Hap & Leonard Season 3' kicks off with arson, copulating bears, and Old Scratch himself." To read Den of Geek's review of the first episode, click here!
03/01/18-What do you mean you haven't checked out Bubba Ho-Tep and the Cosmic Blood-Suckers? Well ... go do it!
02/22/18-Heads up, Santa Fe! Or head to Santa Fe, if you want to be among the first to see some of the third season of SundanceTV's adaptation of "Hap & Leonard"! Champion Joe will be there, as will host George R.R. Martin. How about you? The fun happens on March 1 and it's totally free—more info here!
02/22/18-"You know who your friends are. They're the ones who keep your secrets or your car keys when you need them to. They'll loan you five minutes or $5, tell you when your ideas are good and your breath is bad, and can be counted on, but never out. You'd like to think they'd even take a bullet for you but, as in the novel The Thicket by Joe R. Lansdale, you hope you'll never have to know." To read the entire review, from the Pahrump Valley Times, click here! And to purchase a copy of the signed-and-numbered, limited-edition hardcover of that fine novel, click here!
02/15/18-From Joe: "Mine and Karen's dear friend Bill Crider has died. I miss him already. He and his wife, Judy, became close friends of ours in 1978. We lost Judy a few years back, and now Bill. Two painful losses almost back to back. They are a loss not only to us, and our family, but certainly many of his friends and relatives, and of course our loss doesn't compare to that of his children. Condolences."
02/08/18-Even when I'm doing something enjoyable, it seems death and destruction lurk nearby. I might not recognize those dual demons right away, but they're out there. They might arrive in a pickup truck, and those in it may seem at first like a lot of people I might see. Just folks going about their business. Check out the excerpt from Jackrabbit Smile!
02/08/18-IDW's first Hap & Leonard graphic novel, Savage Season has been collected into a hardcover! Check in out!
02/01/18-From Publishers Weekly: "Hap Collins and his longtime love, Brett Sawyer, have finally decided to tie the knot in Edgar-winner Lansdale's raucous 13th Hap and Leonard novel (after 2017's Rusty Puppy), but they've barely gotten the burgers and hot dogs on the grill for their East Texas–style wedding party when two uninvited guests arrive. The heavily tattooed man, Thomas Mulhaney, wears a white pride T-shirt, and his mother, Judith, looks to be out of backwoods Pentecostal central casting. Hap's best friend, Leonard Pine, a black Republican and Vietnam vet, prepares to escort them off the property in his usual inimitable way. But then the pair ask if they can hire the detectives to look into the disappearance of Thomas's sister, Jackie. Hap and Leonard hold their noses and agree to investigate. The trail leads them to the nearby town where Jackie, an accounting whiz with strange views on interdimensional travel, was last seen. There they meet a hog farmer known as Professor, who has plans of creating a segregated white utopia aided by assorted local yokels and a pair of lethal twin brothers. As always, Lansdale provides a wild, fun ride with an astute eye on social issues." Place your preorders for Jackrabbit Smile!
02/01/18-Check out "Harvest Baby," a piece of flash fiction by Kasey Lansdale!
01/25/18-We're proud to see Champion Joe made Library Journal's list "Visionary Graphic Narratives: Celebrate Black History Month and Beyond with These Essential Comics"!
01/25/18-Champion Joe says, "We lost Jack Ketchum. Damn. He was a good guy. Sorry to hear it."
01/25/18-Can't wait for season three of Hap & Leonard? Well, you're gonna have to. But maybe these photos and behind-the-scenes article will hold you over...
01/25/18-Champion Joe says, "I like a good, old-fashioned Western now and then, and if you do, Tim Bryant has written one, and a well-written one it is. I look forward to the next one, a chapter or so of the forthcoming sequel is in the back pages. Check it out. "
01/25/18-Joe R. Lansdale is celebrated across several continents for his dark humor, his grimly gleeful horror, and his outlaw politics. Welcome to Texas. With hits like Bubba Ho-Tep and The Drive-In, the Lansdale secret was always endangered, and the spectacular "Hap & Leonard" Sundance TV series is busily blowing whatever cover Joe had left. Backwoods noir some call it; others call it redneck surrealism. Joe's signature style is on display in in all its grit, grime, and glory in Miracles Ain't What They Used to Be, beginning with a couple previously unpublished Hap and Leonard tales revealing the roots of their unlikely partnership. Plus... a hatful-and-a-half of Joe's notorious Texas Observer pieces that helped catapult him from obscurity into controversy; and "Miracles Ain't What They Used to Be," Lansdale's passionately personal take on the eternal tussles between God and Man, Texas and America, racism and reason—and religion and common sense.
01/18/18-If you want to be the first on your block to know what's gonna be in Season 13 of SundanceTV's adaptation of Champion Joe's "Hap & Leonard" series, get your pre-order in now for Jackrabbit Smile!
01/11/18-Hey, Britain! You can get your Champion Joe fix at Waterstones!
01/04/18-Davy Crockett, Big Foot, and bad sausage. Check it out.
12/28/17-Elvis has re-entered the building! Check out the comic-book adaptation of "Bubba Ho-Tep and the Cosmic Blood-Suckers"!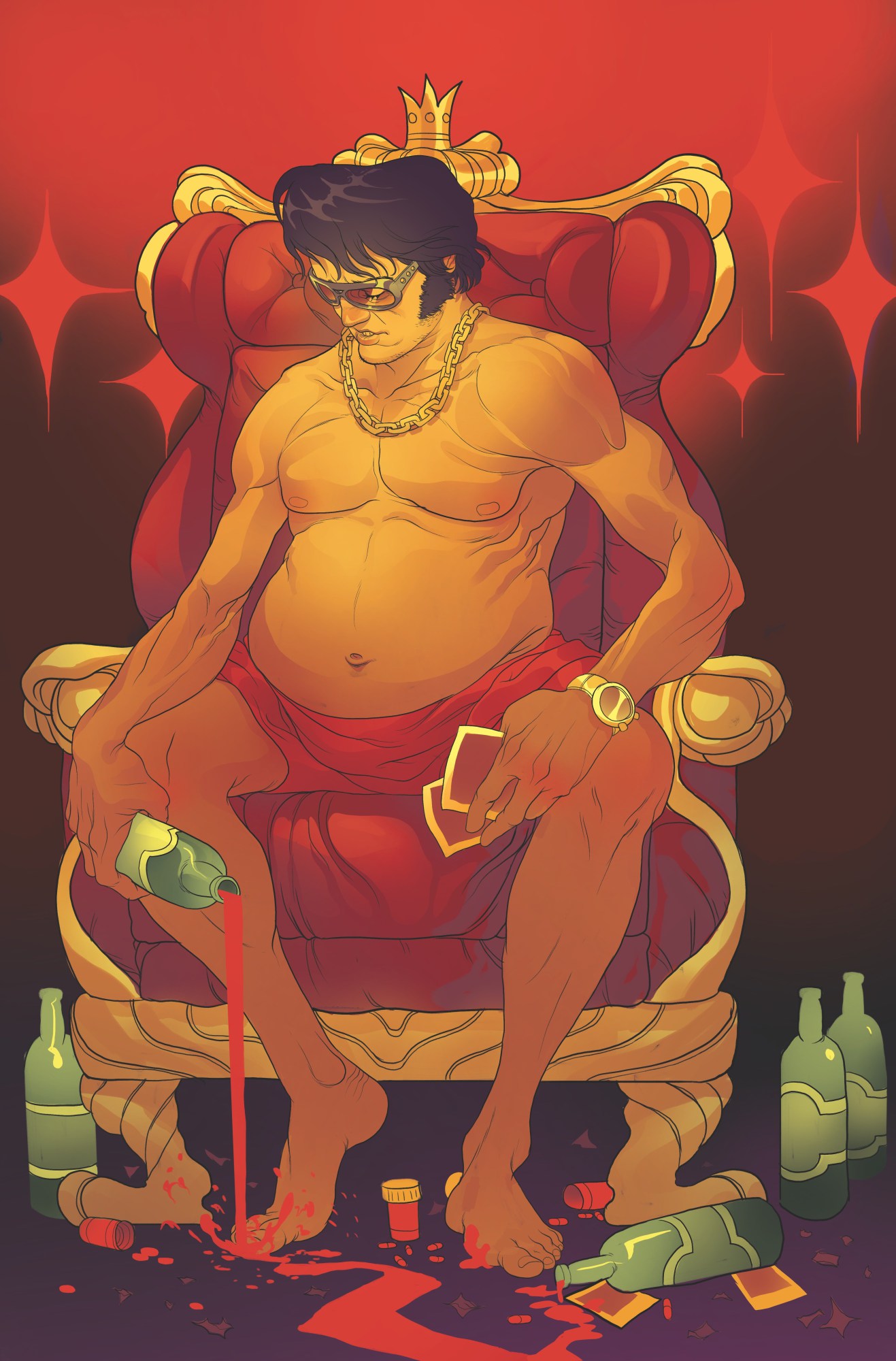 12/28/17-&quotWhen I first began to write as a kid, what I had in the way of an office was a notepad and a ballpoint pen and any place that was flat where I could work.&quot Check out "The Workplace, Wet or Dry," Champion Joe's reflections on how he became a professional writer! Enjoy!
12/28/17-My parents and I were staying in a little, rented house that leaned to one side like a wet cardboard box. It was almost Christmas—the first Christmas I remember—and the images are stuck to my mind like dog hair to Velcro. It's "The Battery Powered Christmas," and it's the Totally Free Bonus Mojo Story of the Week! Enjoy!
12/21/17-"[I]f there's one series that I wish received more attention than it did this year — and likely will in 2018 — it's SundanceTV's criminally overlooked 'Hap & Leonard,' a Southern-fried crime drama based on Joe Lansdale's books..." To read all of Melanie McFarland's insightful and wise article from Salon.com, click here!
12/21/17-"Joe R. Lansdale is the toast of Italy, a hot property in Hollywood, and an inspiration to a generation of horror and thriller writers everywhere. And he owes it all to Nacogdoches." To read all of "Darkness on the Edge of Town," an article about Champion Joe published by Texas Monthly, click here!
12/21/17-To watch "Hap & Leonard Season Two: Mucho Mojo," click here!
12/14/17-Champion Joe likes Christopher Moore. Maybe you will, too. Check out his new book, Noir!
12/14/17-Book Reporter says Rusty Puppy is "filled with Lansdale's trademark whip-smart dialogue, colorful characters, and relentless pacing." To read the entire review, click here! And to preorder the paperback release of this book, click here!
12/07/17-From Joe: "I've known Bill Crider over half my life. His recently departed wife, Judy, was equally a friend, and much loved by the Lansdales. Bill posted the below on his 'magazine' site yesterday. I always loved our calls, emails, gatherings at conventions. For my family, the world will be different, and not as good. Love you, Bill."

Things could change, but I suspect this will be my final post on the blog. I met with some doctors at M. D. Anderson today, and they suggested that I enter hospice care. A few weeks, a few months is about all I have left. The blog has been a tremendous source of pleasure to me over the years, and I've made a lot of friends here. My only regret is that I have several unreviewed books, including Lawrence Block's fine new anthology, Alive in Shape and Color, and Max Allan Collins' latest collaboration with Mickey Spillane, The Last Stand, which is a collection of two novellas, "A Bullet for Satisfaction," an early Spillane manuscript with an interesting history, and "The Last Stand," the last thing that Spillane completed. It saddens me to think of all the great books by many writers that I'll never read. But I've had a great life, and my readers have been a big part of it. Much love to you all.
11/23/17-Elephant of Surprise ....
11/23/17-Hap & Leonard alert! Place your preorders for the next installment! Jackrabbit Smile will be coming your way March 2018! And Champion Joe will be visiting Texas, California, Arizona, and Florida in March/April to tell stories and sign copies -- details here!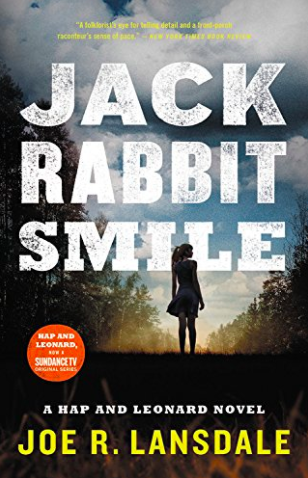 11/23/17-Champion Joe says, "In book news, besides Jackrabbit Smile coming out early next year, and Rusty Puppy coming out in paperback next year, I have two more novels forthcoming over the next couple of years from Mulholland. I also have a story collectioncoming from Subterranean Press, and in 2019 the last of the Ned The Seal adventures, The Sky Done Ripped. Stay tuned. "
11/16/17-Get ready for the new season of "Hap and Leonard" with Two-Bear Mambo, the source material for next year's adventures. Check it out here or any of your favorite places where books are sold.
11/09/17-Black Friday? Cyber Monday? Screw a bunch of that. This is Mojo Thursday. If you see something below that you want, contact Kasey for pricing.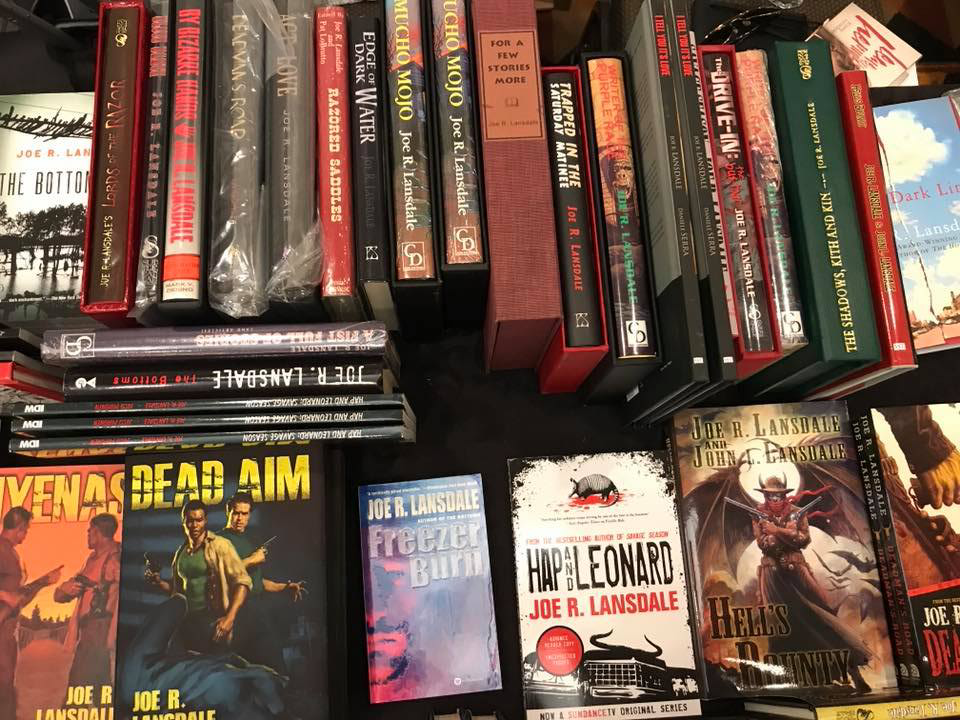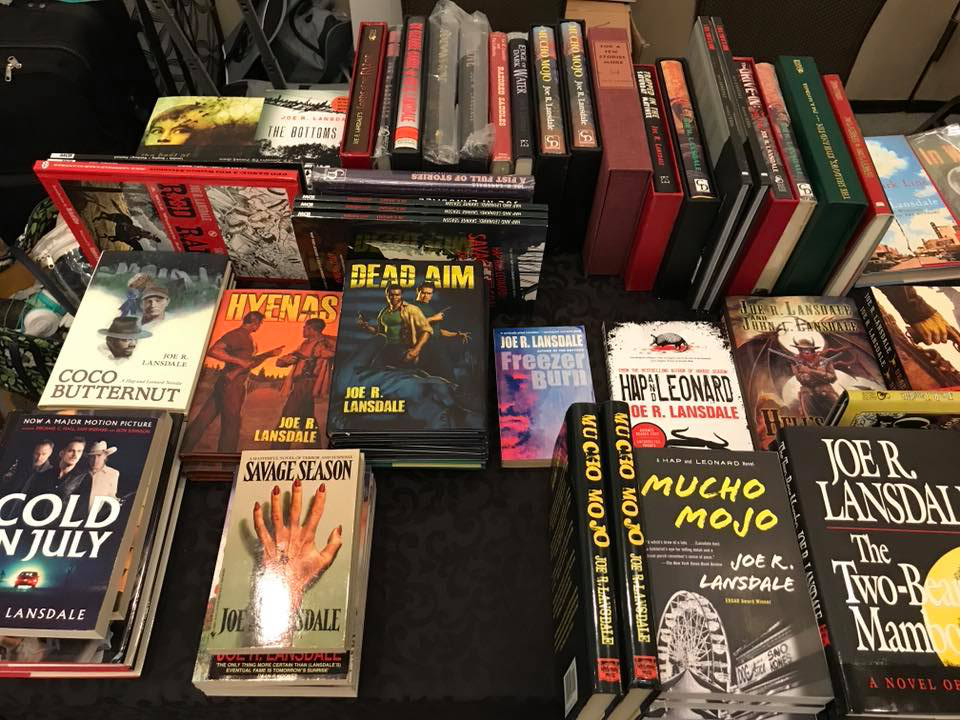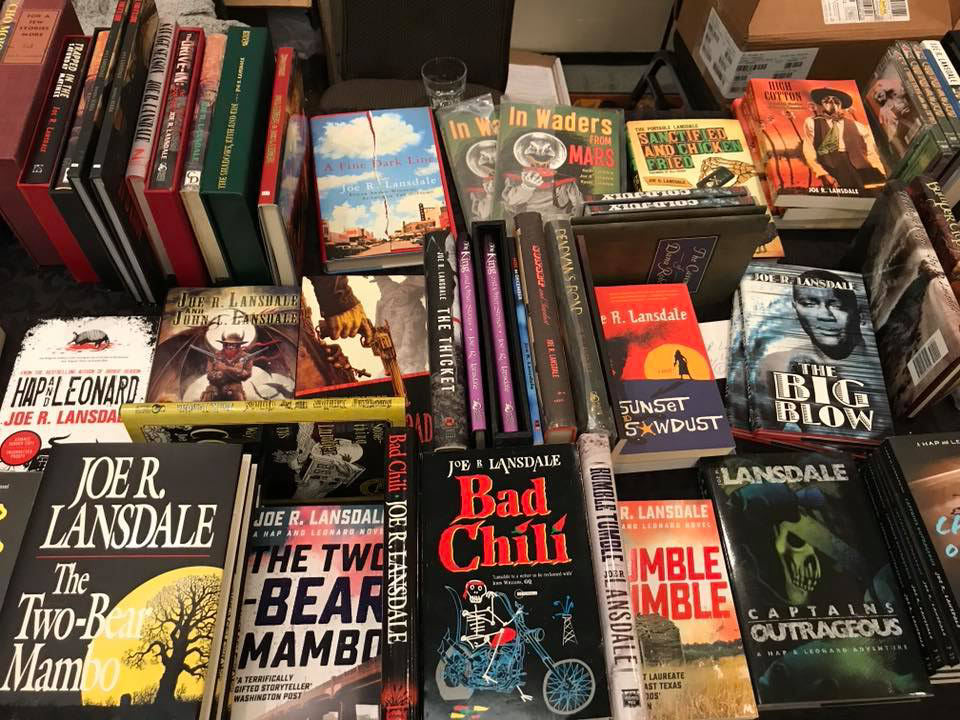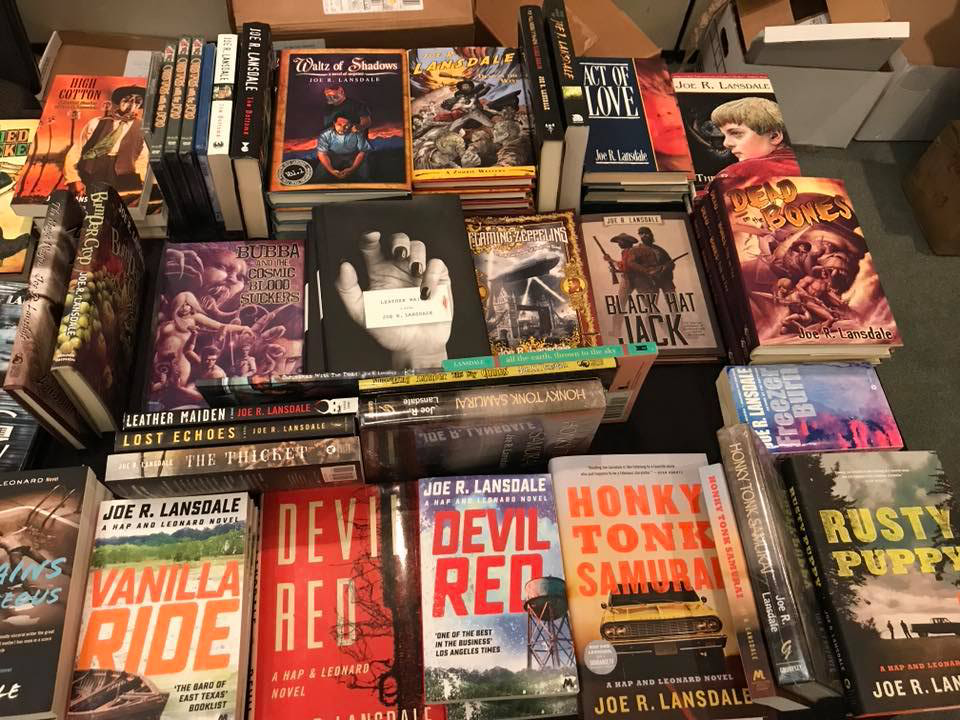 11/02/17-Champion Joe says, "Robert Dunn's publisher sent me his novel, which takes place in Lansdale, Texas, and has a character named Longview, which is also the name of an East Texas town near where I grew up in Gladewater, Texas. I thought, okay, I'll give it a try. It's terrific. It's lean and smart and very good. I say, check it out. Dead Man's Badge, Robert E. Dunn, published by Brash Books."
10/26/17-"In some ways getting older is great. Wiser. More experience. Less concerns about the little things. But then again, it isn't the same for everyone else. The worse part about getting older is getting older; closer to the finish line, and it's a race you don't have any choice about, and it's great, but all games in. That's the tough part about being older, realizing your time is getting less and you can't waste it." To read the rest of the Out of the Gutter interview with Champion Joe, click here!
10/26/17-Marvin Hanson is a private investigator. Time was he worked homicide in Houston's Fifth Ward, but that was years ago. Nowadays he's living a quieter life, running a little one-man operation in LaBorde, Texas. You might think a sleepy East Texas town wouldn't rate its own PI, but then you've never met Mildred "Babe" Craver.... "A Bone Dead Sadness" revisits Marvin Hanson decades after the events of Act of Love; fans of the Hap and Leonard series have also encountered him as the boys' sometime-employer. At its core, this novella is a good old-fashioned locked-room mystery, wrapped up in noir and tied with a Dixie-scented bow. And it's only 99¢!
10/26/17-At night, all alone in the big garage, he thought about a lot of things: The work he wanted to do. How well he wanted to do it. The new coat of paint he was going to get. And sometimes he slept and had the dreams. Thinking about the dreams made his metal turn cold and his manifold blow leaky air. It's "Bill the Little Steam Shovel," and it's the Totally Free Mojo Story of the Week! Enjoy!
10/19/17-Get your Kasey Lansdale flash fiction! "Harvest Baby" is a tale of love, family, and the joy of children, and it can be yours now for 99¢!
10/12/17-Champion Joe says, "Sam Glanzman was a great artist. His death left his wife in a financial bind, and I'm hoping you will consider giving to this fund.
10/12/17-Champion Joe also says, "Richard Matheson, one of my favorite writers of all time, has his best stories gathered in a new collection from Penguin Classics, The Best of Richard Matheson. If you love short stories, he was a master. I am Legend, Shrinking Man, Bid Time Return (also known as Somewhere in Time) are among the novels he is best known for, but the short stories are pretty damn amazing, and short stories are my favorite to read and write. Check it out here.
10/12/17-And Champion Joe says, "Charles Beaumont is another fantastic writer published at Penguin. His impact on writers is far larger than is known, and is among my early influences, along with Robert Bloch, Richard Matheson, and Ray Bradbury. He was as clever as Matheson, and wrote as beautifully as Bradbury. Contributed to prose and film. Check it out here.
10/12/17-Champion Joe has just spent several days on set and promises next season of "Hap & Leonard," which will adapt Two-Bear Mambo, will be a good one. If you can't wait that long for your next fix, go get Rusty Puppy!
09/28/17-Hap is facing an inner crisis, wavering between a shrink and a little blue pill, while his lover, Brett, and his best friend, Leonard, speculate on a colorful variety of causes and cures. When he opts for neither, ignoring his doctor's advice to call a shrink, she calls him instead and the team is off to the races, facing off with a wide array of odd relationships, crazed florists, and murder. Check out "Cold Cotton," a Hap & Leonard novella!
09/28/17-Louis Gossett Jr., Corbin Bernsen and Andrew Dice Clayare recurring characters in Season 3 of the "Hap & Leonard" SundanceTV Series!
09/28/17-Texas State magazine says, "No other writer — in Texas or any other state in the union — can switch between gut-bursting humor and nail-biting suspense with as much heart and grace as [Joe] Lansdale." To read the entire piece — which is a review of Hap & Leonard: Blood and Lemonade — just click here! (And don't getthis confused with the book which is just titled Hap & Leonard — they look a lot alike, but Hap & Leonard: Blood and Lemonade is a series of related short stories about Hap in his youth, and sometimes Leonard. It's fairly unique to the series and well worth your time.
09/28/17-The Hap & Leonard graphic novel get released next month! Check it out!
09/21/17-"Hap & Leonard" Season Three is! Now! Filming!
09/21/17-You want new magazines for fiction and non-fiction, well, here you are. Show this idea some love.
09/21/17-Bill Sage on his character Howard in "Hap & Leonard": "Joe Lansdale made him a soulful asshole instead of just an asshole which gives you a lot of room to play. You've got a character that's incredibly intelligent, supremely confident, and on a ride to disillusionment and hell. What's not to like?" To read the entire interview with the actor, click here!
09/21/17-The hurricane-relief auction at the Boss Light raised $5,000+! Thanks to everyone who participated.
09/21/17-Bruce Campbell and Keith Lansdale teamed up to fight off the soul-sucking lunch monsters: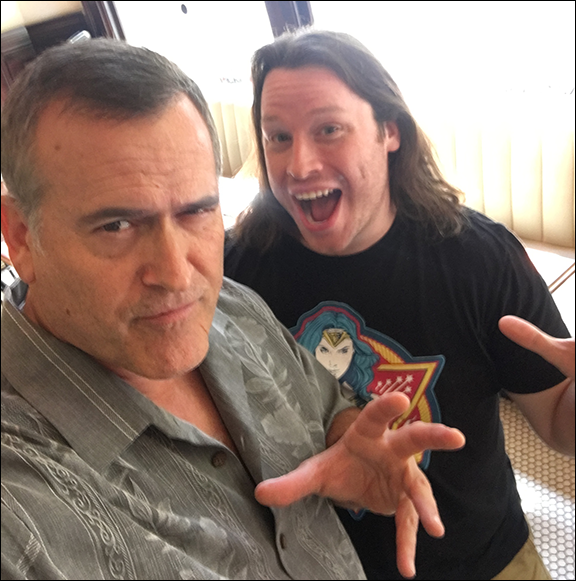 09/21/17-If you like Champion Joe's short stories, you'll like the fact that Dover has released a new edition of By Bizarre Hands!
09/14/17-If you're ever heard Champion Joe speak, you no doubt said you could listen to him forever. Now's your chance to test that theory! Check out this podcast from This Is Horror, in which Champion Joe talks about Hap and Leonard, growing up in East Texas, and Bubba and the Cosmic Blood-Suckers, among other things.
09/14/17-Champion Joe says, "The Warblers by Amber Fallon. I was given this book at a convention by Amber, read the first paragraph, thought, wow, I'm in. And then when my books were mailed home to me it took a while, and then I opened the box, got it out, and read it in one setting. Well, pretty much. We'll call it one and a third. But, The Warblers is so unique, and wonderful. A coming-of-age novel, a horror/science-fiction novel, an adventure, and something of a suspense tale. It's short. It's fine. It's fast, and I think you just might need this. From Eraser Head Press. Check it out, friends. And see what choice you would make. All I'm going to say. Not ruining this fine novel. Check it out and read it over."
09/11/17-Champion Joe says, "A DAY OF REMEMBRANCE. Here's a snippet from an article I wrote once, just the part that describes how I feel. We all have our own feelings, but this is a condensation of mine. But mainly this is merely to have us remember this day that, like Pearl Harbor, the Oklahoma bombings and so on, is a day in infamy. 'Once in the United States, we felt a little distant from most of the ongoing conflicts in the world, not immune, but one step away. This was never an absolute truth. We had acts of terrorism on our soil before 11 September, some of our own countrymen, but that day was different.'"
09/07/17-Champion Joe says, "And so you have aches and pains and worries galore. Write them down, give some of those elements to characters you create. It helps you, and it helps the story. "
09/07/17-Thanks toKasey Lansdale, Dark Delicacies, and all those who dropped in with items and auction materials, and those who bought those items to help Houston in its flood relief. It was a great event.
09/07/17-George RR Martin shared this with Champion Joe, and so we now share it with you: "Once in a blue moon I come to you all with a cause. This one is for a fellow author and my assistant, Lezli Robyn. Many of you have worked with her during the last couple of years. What you may not realize is that she has a rare eye disease which is progressive and she is now legally blind...and her eyesight is getting worse every year. There is a recent treatment which has had outstanding results in halting the progression of the disease, but it is expensive and she can't afford it. But this is about her ability to see.... I have set up a gofundme campaign for her hoping to raise some funds. Any contribution would help. Also, would appreciate you all spreading the word. "
08/31/17-Champion Joe and Karen Lansdale celebrated their 44th anniversary! Congratulations, Lansdales!
08/31/17-Heads up, Los Angeles! On Tuesday, September 5, Kasey Lansdale will host a fundraiser to benefit victims of Hurricane Harvey. Besides Champion Joe, Dark Delicacies and George RR Martin have signed on to help. Info here!
08/24/17-Champion Joe talks with Adventures in Videoland about Bubba and the Cosmic Blood-Suckers -- listen here!
08/24/17-Slashfilm.com lists the "Ten Best Movies to Stream in August," and leading the list is ... well, you'll have to see for yourself, by clicking here.
08/24/17-Crave presents "10 Unforgettable Movies From The Late, Great Sam Shepard (1943-2017)" and Champion Joe is as proud to see Cold in July on the list as he was to have Mr. Shepard in the film: check it out.
08/24/17-Marvel Comics founder Stan Lee has a new animated series coming out and Kasey Lansdale voices one of the characters! Read all about it in Variety!
08/24/17-The family of Johnny Cash speaks out and speaks out well. Read for uourself: "Johnny Cash's family tells white supremacists to get Johnny's name out of their mouth."
08/17/17-Dot waitresses on roller skates at the Dairy Bob, doesn't care for smoking, at least partly on account of her dad having never returned from a cigarette run, and carries on the family tradition of philosophizing. Life hasn't done her any favors in her seventeen years so far. But if there was ever a heroine built for turning things upside down and seeing what shakes out, it's Dot. Determined to find out who she is and why she's the way she is, an opportunity presents itself when her heretofore-unknown uncle suddenly moves his camper into the front yard. It's Fender Lizards, Champion Joe's coming-of-age classic, now in audio, as performed by Kasey Lansdale! Check it out!
08/17/17-Need a little Hap & Leonard to tide you over between seasons? Well, here's just the thing: When Hap and Leonard first see the bookmobile, it's barreling down the middle of a country road, seconds before it smashes into their car. When they come to, they learn that the young boy driving the bus has died in the crash. Then they discover several bodies, hidden in the bookmobile's rear compartment. Does one of them belong to the woman known as Hoodoo Harry?
08/17/17-Champion Joe and Chet Williamson have been friends for years ... decades, even! And that's exactly what they talk about in this episode of "The Horrow Show with Brian Keene"!
08/10/17-If you are in the Northeast and want to host Kasey Lansdale at a house party, contact her on Facebook. Here's a video of Kasey performing:
08/03/17-At San Diego Comic-con, Kasey portrayed a shield maiden for the History Channel: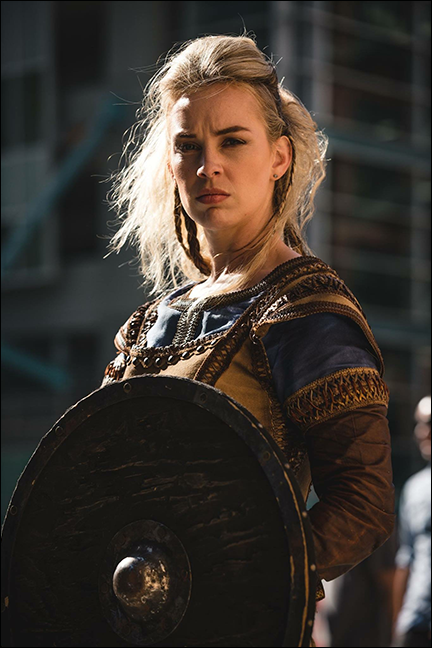 07/27/17-Champion Joe says, "Great weekend (last weekend) at Scares That Care. Wonderful experience for a good cause. More folks should check this out, and make plans for next year. Always an interesting roster of guests."
07/13/17-What would George Romero's classic movie had looked like if his head writer had been Champion Joe? Find out in Nights of the Living Dead, an anthology that's out now!
07/13/17-If you like Champion Joe, you should like Pandi Press!
07/05/17-We like monsters! If you like monsters, you'll love Pete Von Sholly's History of Monsters!
06/29/17-Champion Joe says, "Spent some time in the Hap and Leonard writers room while I was in L.A., and it was a blast. This season is shaping up to be the best yet. If you're curious about the book that inspires Season Three, check out The Two-Bear Mambo from Vintage Books, easily obtainable through numerous sources."
06/29/17-The limited edition of Honky Tonk Samurai (signed by Joe Lansdale with an afterword by Nick Damici, who will sign just the lettered edition) is now available -- and it's really snazzy! To order this Hap and Leonard limited from Gauntlet Press, click here!
06/29/17-Champion Joe says, "Rusty Puppy replaced my own personal favorite, Mucho Mojo, in the Hap and Leonard series, and I hope you like it as well. You can check it out here, as well as other on line services and bookstores."
06/29/17-One of Champion Joe's artistic collaborators, Sam Glanzman, has a GoFundMe campaign where you can help a comics legend and net some sweet stuff at the same time. Check it out!
06/15/17-Library Journal review of Nights of the Living Dead, a new zombie anthology edited by Jonathan Mayberry and George Romero: "In 1968, director Romero's 'Night of the Living Dead,' which depicted 48 hours of a zombie outbreak, took the movie world by storm. Here, author Maberry (Patient Zero) and Romero bring us back to those two days of the newly risen dead with this anthology of 19 tales. Along with original stories by both men, there are entries such as Joe R. Lansdale's 'Dead Man's Curve,' in which a brother and sister come face to face with the undead during a drag race, and Mira Grant's 'You Can Stay All Day,' about a young zookeeper. All of these stories highlight the fear, darkness, hope, and humor facing the living dead can bring. VERDICT: Zombie fiction fans can't get enough of their favorite monsters, but this masterly collection of tales from some of today's greatest speculative writers will sate their appetite—for a while."
06/08/17-Champion Joe says, "My brother, Andrew Vachss, has alerted me to this, and I love it. You can donate a bit of your support to the protection of children when you buy from Amazon, and here's the link to do it with. This assures that a percentage of your purchase goes to their aid. I love my brother and I love what he's doing here. Please check it out."
06/01/17-Hey, Hap & Leonard fans! Did you miss Briar Patch Boogie?
06/01/17-It's "Ten Questions with Joe R. Lansdale"! Enjoy!
05/25/17-Champion Joe and Kasey are interviewed about their collaboration, "Blind Love," on the podcast "The Dark Tome"! Enjoy!
05/25/17-Champion Joe sends congratulations to the graduates of the 2017 class of Laguna College of Art and Design — he was honored to give the commencement address this week!